It doesn't matter what time of year it is, foil packet dinners are always in season! These recipes take the fuss out of cooking, especially after a long day. Foil packets can be baked, grilled, roasted, or simply tossed over an open campfire.
All you have to do is load up your favorite flavor combinations, make sure the foil packs are sealed completely, cook, and enjoy!
Try and use a heavy-duty aluminum foil. A thinner foil is likely to tear when cooking, which will cause all those mouthwatering juices to ooze out of your meal. If you're not sure about your foil, nobody said you couldn't double up, especially if you're boiling your foil packet dinners.
So, however you decide to cook your foil packet dinners, I can promise that it will take no time at all. Whatever recipe you're looking for, from chicken to veggies, here are 11 foil packet dinners that are perfect for meal prep!
Looking for a meal prepping guide?
1. Butter Garlic Herb Steak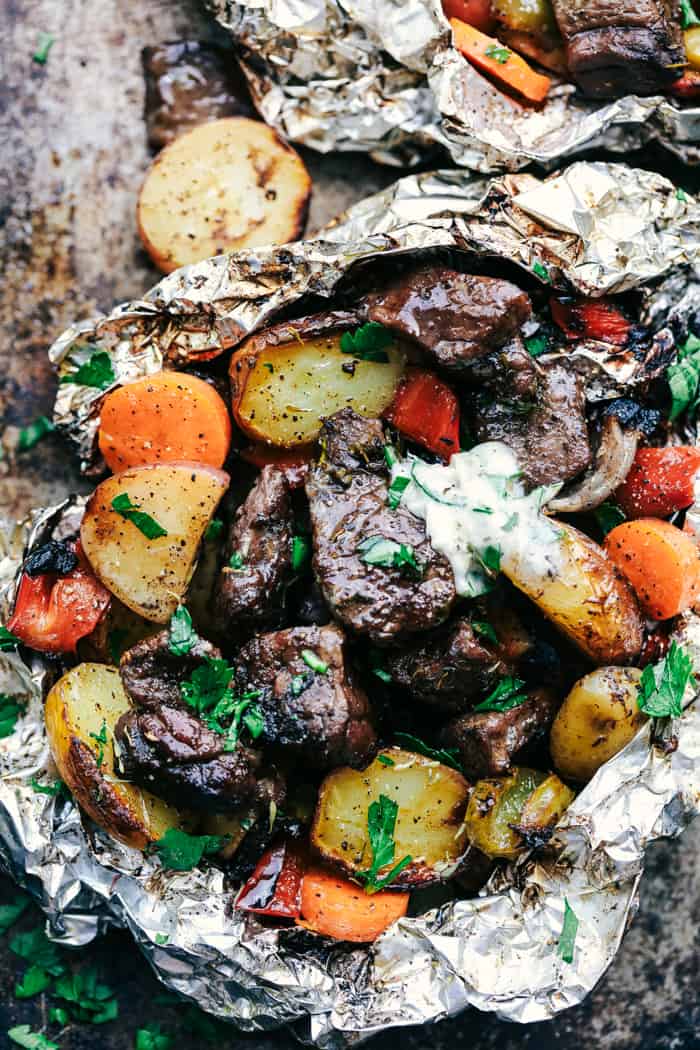 We're starting this list off strong. Melt in your mouth beef, hearty veggies that are grilled to perfection, and butter that has garlic herbs inside. Talk about a meal that you don't want to miss out on! The grill is a favorite method of cooking this meal. It gives slightly charred edges, which I'm very much in to, but it's amazing however you decide to prepare it.
2. Grilled Hawaiian Barbecue Chicken In Foil
Get ready for a sweet and tangy flavor adventure with this one. The incredible pineapple barbecue sauce smothered over the chicken and healthy summer veggies is to die for! Just wrap everything up nice and tight, then simply toss it on your grill for about 15 minutes. If you've never made a foil packet dinner before, the best part is probably opening the foil after it's all cooked. Such a heavenly smell.
3. Lemon Chicken & Asparagus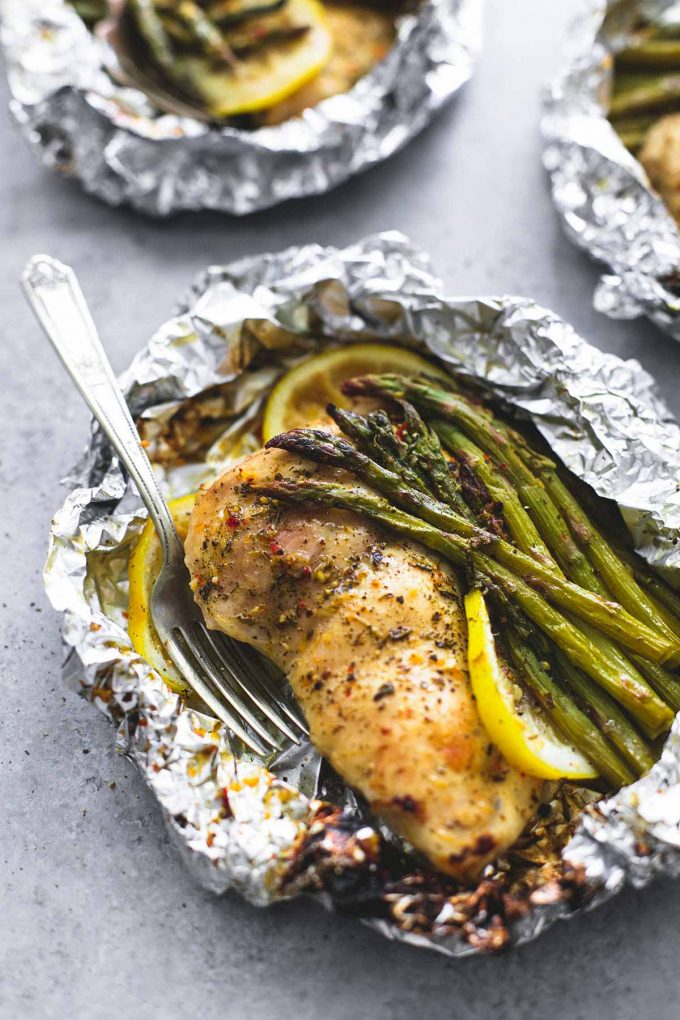 It's time to hop onto the foil packet train people! So simple to prepare, to cook, and to eat! What's not to love about these foil packet dinners? Another time-saving trick with these is using plastic ware to eat, so there's no need for cleaning dishes; just toss it all in the garbage with the foil. An added feature to go with a quick dinner like this one. Juicy lemon chicken paired with asparagus is a perfect match!
4. Creamy Salsa Verde Chicken, Rice, & Veggies
Let me explain this to you: Creamy salsa verde chicken, rice, and veggies all cooked at once in a foil packet! Excited yet? What if I told you that there was no need to pre-cook the rice or chicken?? No kidding. This delicious dish takes about 10 minutes to assemble, 40 minutes to bake (or 25-35 minutes to grill), and then you've got a dinner that's bursting with Mexican flavor! Ready to give it a try?
5. Loaded Nachos
This is a perfect foil packet dinners recipe to share with friends and family at the next get together! You can make these nachos for a simple appetizer or a full-fledged dinner. You can prepare the foil pack ahead of time and place it on the grill whenever you're ready to cook. Easy meal prep made even easier!
6. Foil Pack French Dip
Who'd have ever thought that you can make french dip sandwiches in a foil pack? I certainly did not know that. This recipe is perfect for the grill, for camping, or baking inside your oven. You can't go wrong with this one! And don't be afraid to let the cheese pil on top! Once you're done, pull off a personal sandwich and dunk it in your french dip!
7. Garlic Butter Mushroom & Gnocchi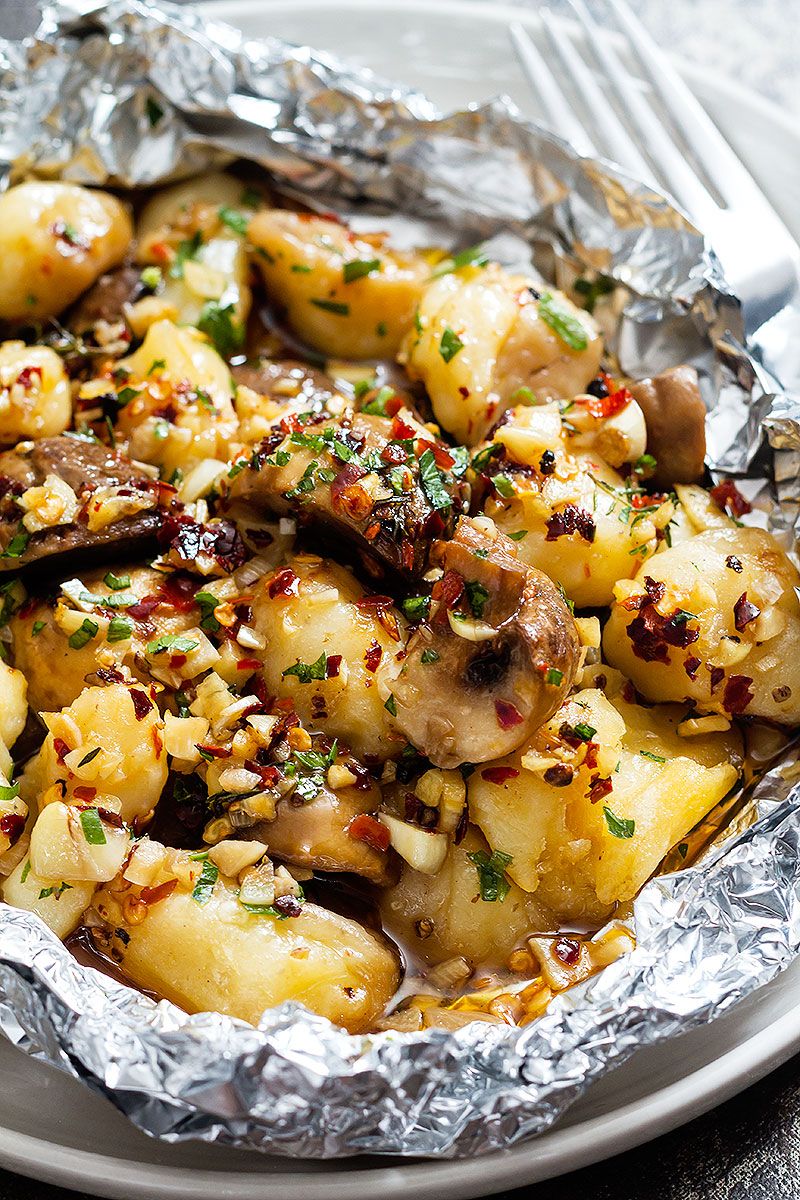 If you're looking for a nutritious dish that doesn't skimp on flavor, you have found the recipe for you! These Mediterranean foil packet dinners have so much savory taste it's insane! Gnocchi and mushrooms topped with a delectable garlic butter sauce and then baked, Sprinkle some fresh parsley to add herbaceous notes to your meal. Is your mouth watering yet?
Big mushroom fan?
Here we give you some awesome mushroom recipes to indulge…
8. Zucchini Parmesan Foil Packs
When you've got two ingredients like Zucchini and Parmesan, it's easy to make a delicious meal. Whether you're heating up the oven in the winter or grilling in the summer, I promise that these zucchini parmesan foil packs are an excellent addition to any meal!
A mouthwatering mixture of butter, herbs, and parmesan get poured over zucchini rounds and then sealed inside foil to lock in all that flavor. Fifteen minutes later, you'll have a veggie treat that's covered in cheesy goodness!
9. Grilled Veggie Summer Foil Packs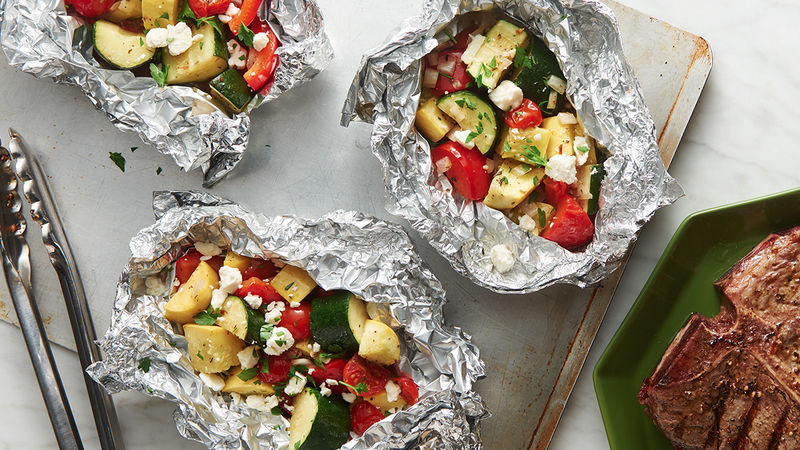 Simple and delicious, this meal was meant for foil. Grilled veggies always make a great dinner, and these grilled veggie summer foil packs are even better! A tasty medley of zucchini, yellow squash, onion, tomato, and feta, all the favorites mixed together to create foil packet dinners that are bursting with all kinds of flavor!
10. Shrimp & Couscous Foil Packets With Avocado-Mango Salad
This fresh and quick dinner tastes just like Summer! Take all the fuss out of your cooking by letting the couscous cook in vegetable broth alongside perfectly seasoned shrimp in one delicious packet! Once you've got everything done on the grill, be sure to top it all off with fresh homemade mango-avocado salsa! Just the thought of it makes me lick my lips.
11. Shrimp Boil Foil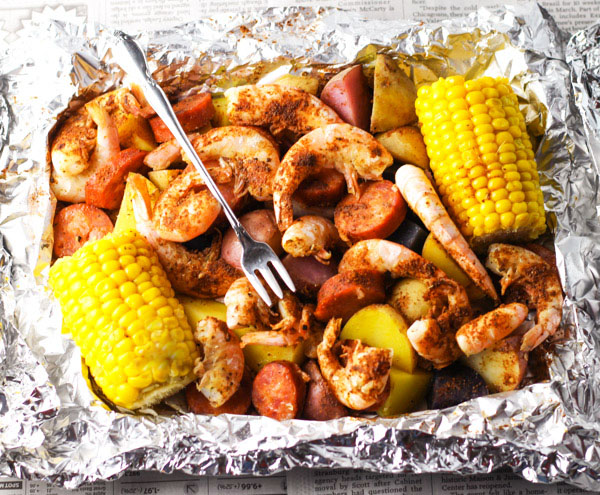 This shrimp boil wrapped in foil literally takes only 20 minutes to bake in the oven. The best part: no big messy pot to clean up when you're done! If you've ever had to prepare a good ol' fashion crawfish boil, you know how much more time it takes than the average dinner.
But with this, all you need to do is toss everything together in a foil packet and you're done! Of course, you still have to cook the food, but even that takes a fraction of the time a normally prepared shrimp boil would. Once it's all done, you'll have yourself all the best tastes of the South!
Was this article helpful?
Please let us know if you liked it. That's the only way we can improve.