For Vegans, you might think the options are limited when it comes to finding the perfect soup to fill that gap, but you couldn't be more wrong.
Vegans typically resort to the good old vegetable soup to satisfy their warm cravings, but today we are going to give you some quick, easy and affordable, tasty vegan soups you can whip up for lunch, dinner and even supper.
So, let's start cooking:
---
1.

Thai Coconut & Vegetable Soup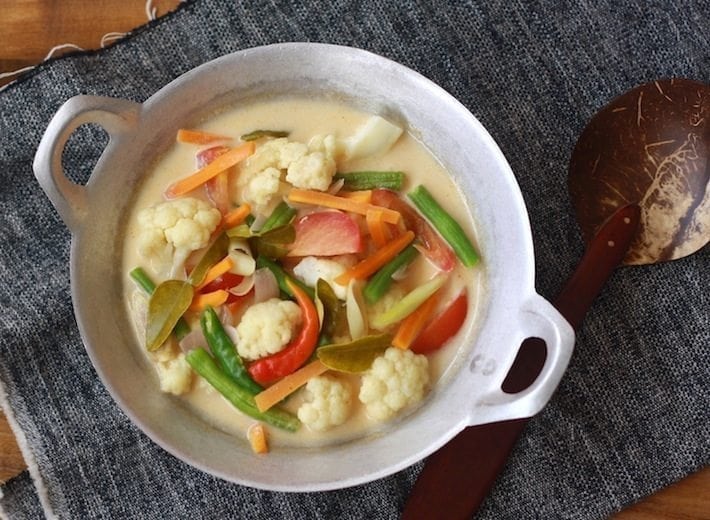 Normally, the traditional Thai Coconut Soup (Tom Kha) is made with a ton of flavorful spices such as galangal and lemongrass. However, this delicious vegan version is made with some fresh cilantro, lime and cayenne to duplicate those traditional Thai flavors and also complement some of the usual ingredients.
---
2.

Low-Fat Lentil Soup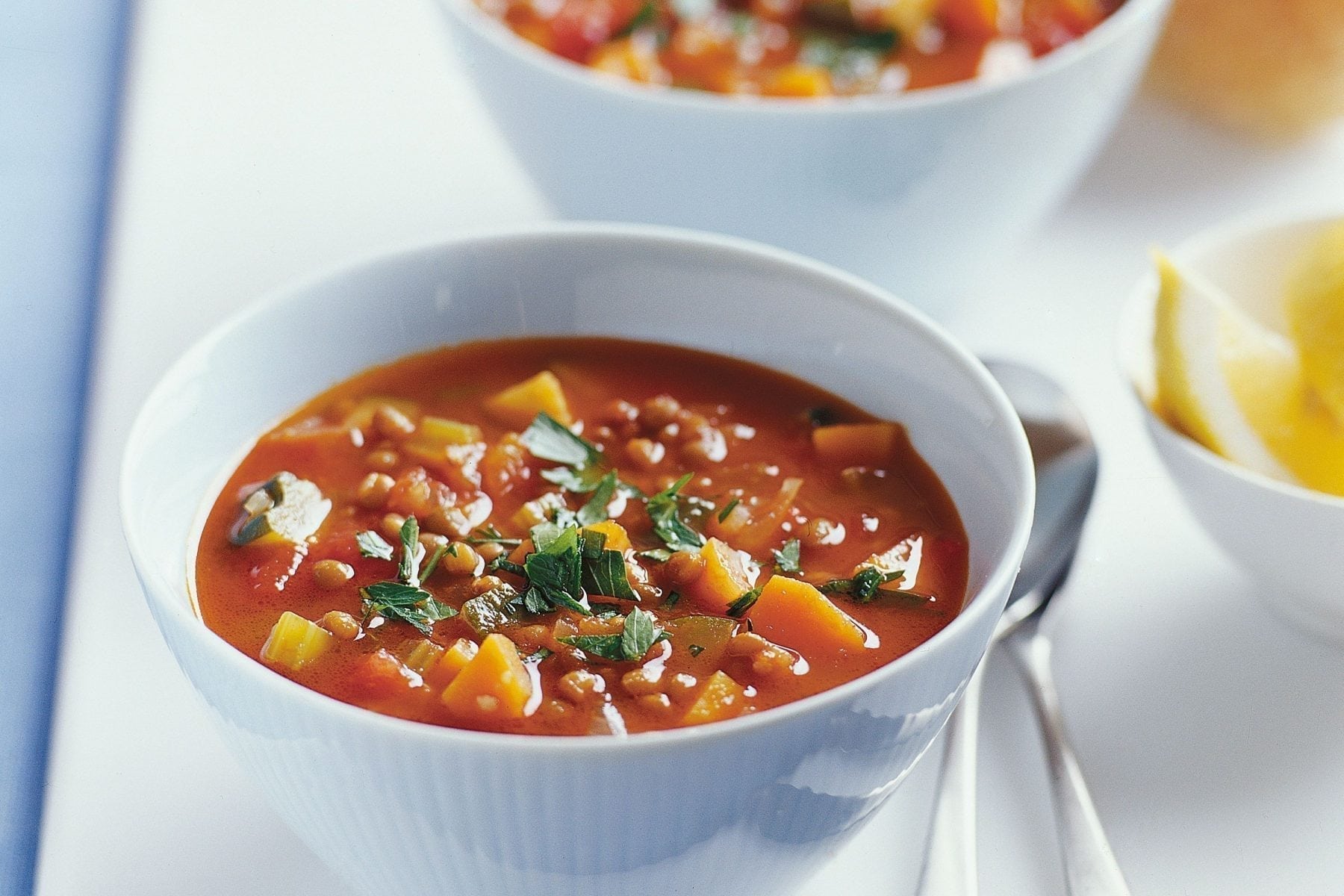 The good old Lentil soup is a go-to for many people, whether carnivore, vegetarian or vegan. It is packed with protein and very comforting and flavorful when done right. Lentils are available in most retailers and grocers, so you should not have any issue stocking up on this protein powerhouse. This tasty vegan soup uses a lot of herbs and spices such as basil and cumin to provide a warm treat that will leave you filled and satisfied.
---
---
3.

Cream Vegan Carrot Coconut Soup
As far as vegan soups go, this one is a must save for those times when you feel for something different. Tasty, smooth and cozy, this soup will leave you wanting more with every sip. We really think that anything with coconut is automatically a winner 🙂
---
4.

Minestrone Soup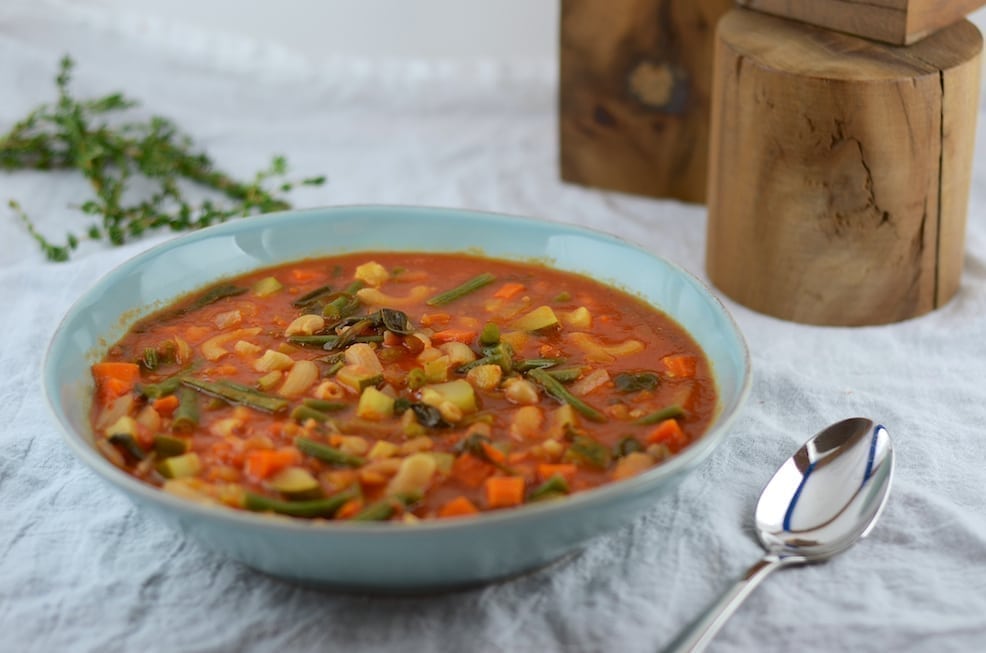 There is no one perfect recipe for Minestrone soup. Every culture and individual has their own take on this dish for the most part, as the name itself can refer to numerous vegetable soups. Consider it a template for you to play around with and make your own. The most popular elements are dried beans, bean broth, dried herbs, spices, and vegetables.
---
5.

Vegan Pumpkin Soup
There is just something about Pumpkin soup that gets you excited. It is mildly sweet, warming and packed with nutrients and minerals. This easy pumpkin soup recipe is spiced with nutmeg and made with pureed pumpkin, but if you have a fresh whole pumpkin to prepare from scratch, you will be just fine.
---
6.

Ajiaco Negro - Colombian Soup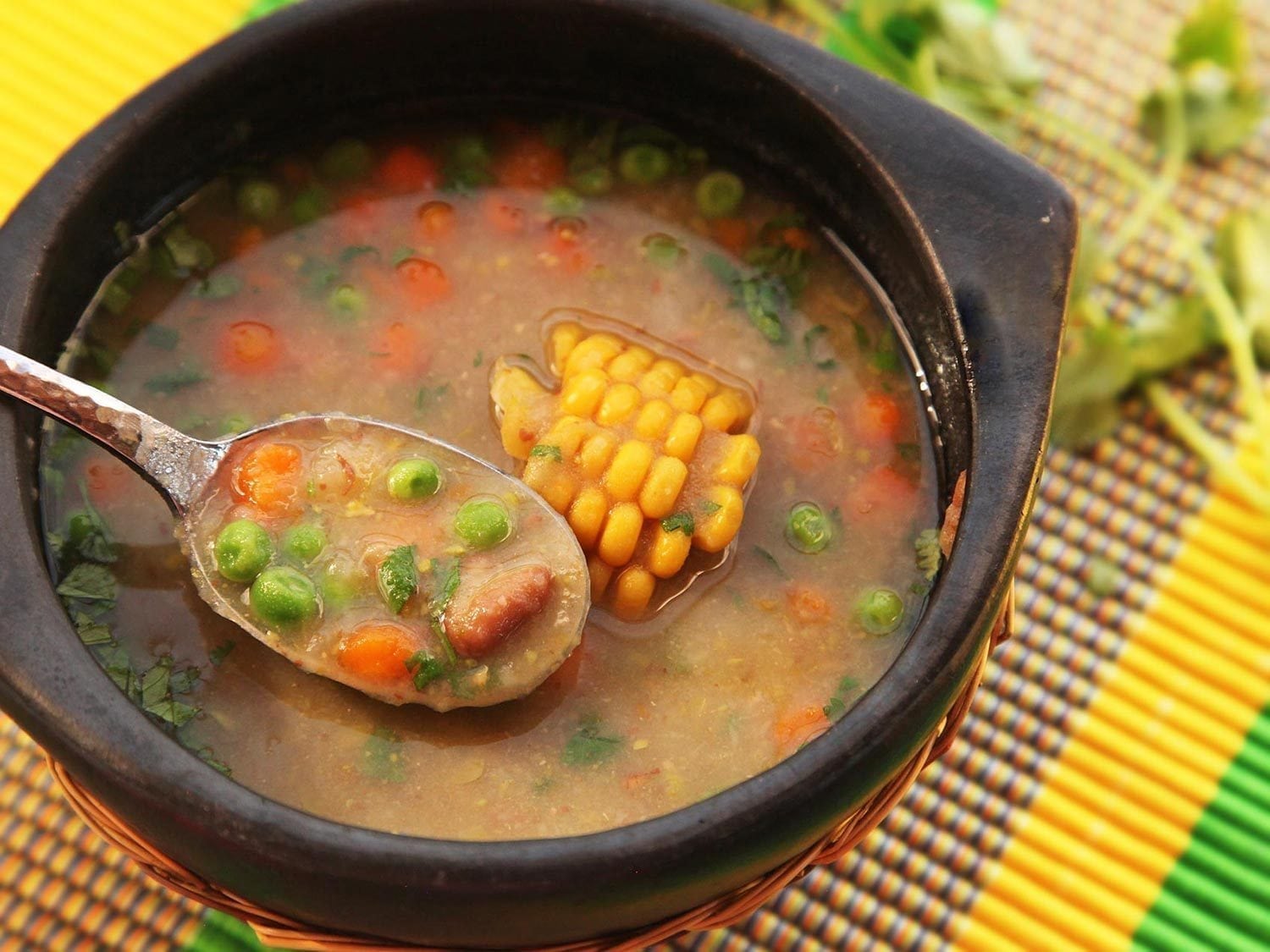 Potatoes can help make a vegan soup that is hearty and filling. The vegan version of the popular Colombian soup, Ajiaco Negro is made with carrot, peas, corn, fava beans and broth. This soup is a bit thick due to all the starch potatoes release when cooked.
---
7.

Vegan Cream of Mushroom Soup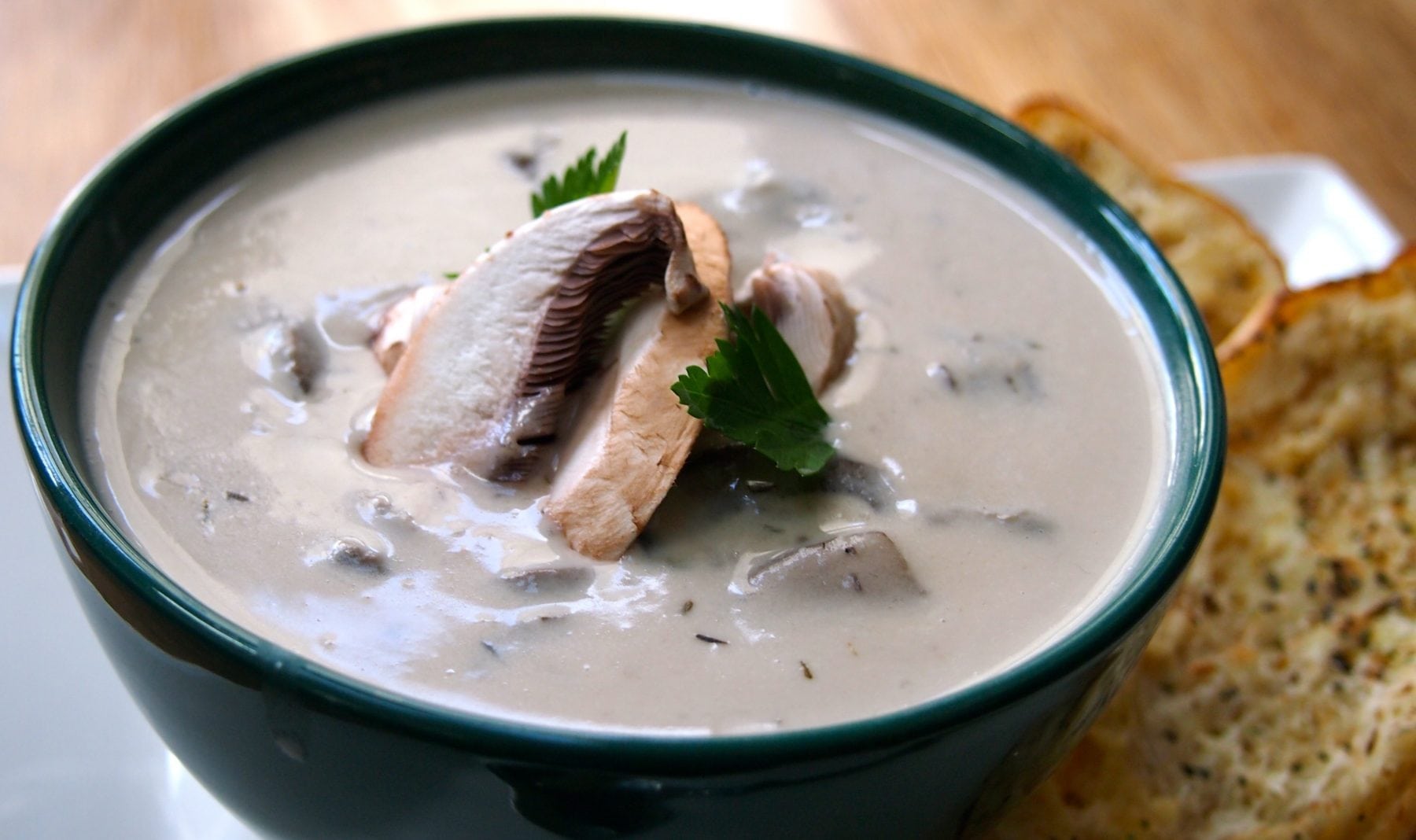 Cream of Mushroom soup is one of the most popular go to's out there when you are looking for something warm, creamy, tasty and filling. The preparation of the vegan version of this soup is no different from the original and can be made with soy milk, almond milk or any other vegan milk substitute.
---
8.

Sweet Potato Soup with Pistachio, Orange & Mint Salsa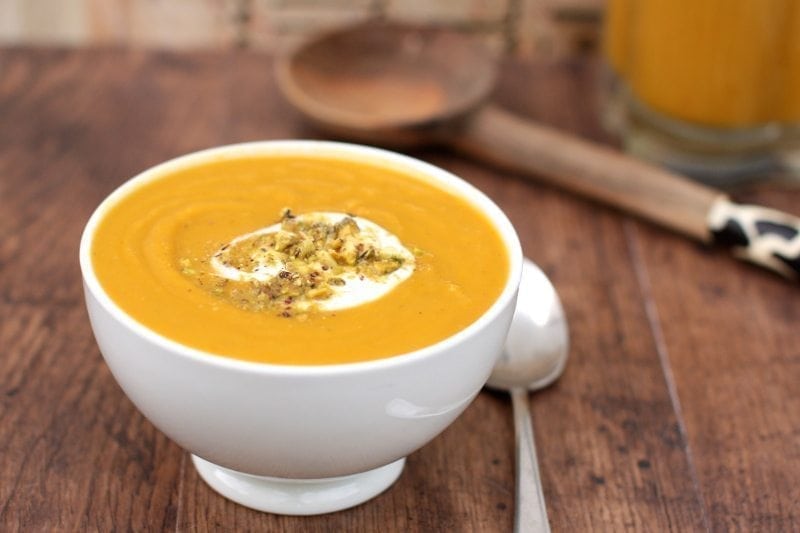 This recipe might take a while as the sweet potatoes have to be roasted, however, when done, you will not regret taking all these steps to create a delicious dish. Placing sweet potatoes in the oven for about an hour on low heat brings out their natural sugar. After baking, you just add orange juice and broth, then blend.
---
Get a wide range of vegan products at Thrive Market:

---
9.

Beyond Meat Chicken Noodle Soup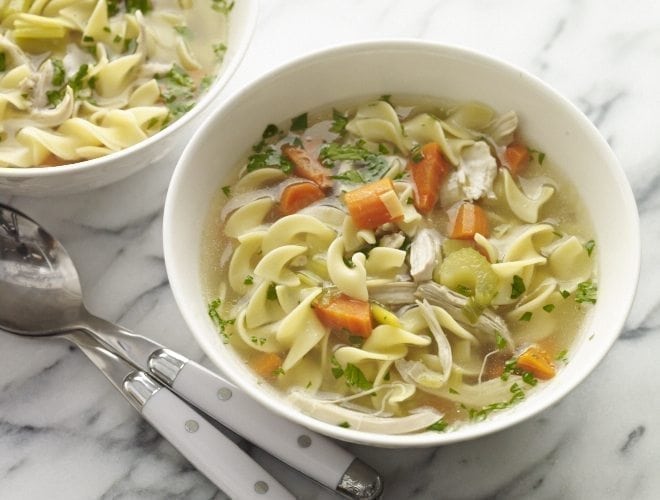 Beyond Meat is a vegan/vegetarian foods company that produces the plant-based version of poultry, meat, and other animal-based foods. The Chicken Noodle soup is a traditional favorite that is a go-to for soothing sore throats and recovering from colds and flu. This tasty Beyond Meat plant-based Chicken version includes sage, celery, and carrots.
---
10.

Vegan Tortilla Soup
Any soup with some avocado, fresh lime and jalapeno pepper is always a tasty way to warm up a cold day and the Vegan Tortilla Soup does just that. A Mexican staple that is as flavorful and as authentic as your usual Mexican dishes, this vegan alternative will not disappoint.
Cold weather is never fun, but when you have warm, tasty vegan soups like these to heat up your spirits, it's not that bad after all.
Cover image by Judy
Was this article helpful?
Please let us know if you liked it. That's the only way we can improve.